This is an archive of the original TweakGuides website, with post-archival notes added in purple text. See here for more details.
Nvidia GeForce Tweak Guide
Last Modified: October 2019
Introduction
Most Nvidia graphics card owners are familiar with the GeForce graphics driver. Previously known as Forceware, and before that, as the Detonator driver, the GeForce driver is the key to harnessing the full potential of your Nvidia GPU. Over the years, Nvidia has been constantly expanding the features contained in their drivers, to the point where the modern GeForce driver package may be seen by some users as a jumble of confusing components and settings. This confusion can cause problems if you're trying to get the best performance and visual quality in a game, or want to troubleshoot unusual behavior.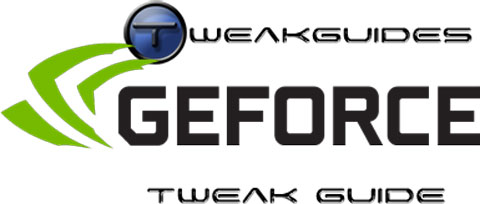 Once you understand what all of the settings and features actually do, you will soon see that you now have a powerful set of tools to configure things the way you want them; more options equals greater control. Better yet, there are several free utilities which can work with the GeForce driver to give you access to additional driver features, as well as providing even more graphics customization options.
This guide is designed to equip you with the appropriate knowledge to make use of all of the features in the GeForce driver. It covers the correct installation, configuration, and optimization of the Nvidia GeForce graphics driver, including full descriptions and recommendations for all of the key settings in the Nvidia Control Panel. It also covers several free utilities which add useful features and options to the drivers. Everything from the basic to the advanced, it's all contained in this handy reference source for Nvidia graphics card owners.
Update: While I haven't had the opportunity to update the entire guide, as of October 2019, I have updated pages 3 & 4 of the guide to reflect the latest methods of cleanly installing the GeForce drivers.
This work is licensed under a Creative Commons Attribution 4.0 International License.