This is an archive of the original TweakGuides website, with post-archival notes added in purple text. See here for more details.
Hardware Confusion 2009
[Page 2] The Old & The New
Before we jump into the main proceedings, I must stress that the aim of this article is not to provide you with a step-by-step blueprint for your own upgrade. I've tried as much as possible to provide objective reviews of the individual components I bought, but inevitably the decisions I've made are also based on subjective considerations. As such do not purchase any computer component based on my choices without first independently researching and considering your own particular needs and circumstances. The true value of this article lies in the way in which it provides food for thought and avenues for further research, thus I encourage you to employ similar methods to that which I've used, not to just emulate my purchasing decisions without understanding the reasons behind them.
Furthermore, in certain areas of this article, I speculate on hardware and software developments in the future. I've tried to base this on established facts and logical deduction, however obviously it is still just speculation, and I encourage you to research further on your own regarding future developments, and not just accept my conclusions.
Note: Because this is a long article, if you find the text size uncomfortable, hold down your CTRL key and use your mouse scrollwheel to adjust the text size to make reading easier (CTRL+0 resets the size back to default).
Full Disclosure
I am not sponsored by any hardware or software company. As such, all of the parts in this article were purchased by me through normal retail channels, and no manufacturer or retailer provided me with any discounts, inducements or support which would cause me to promote a particular brand or product over another.
Old System Specifications
Before looking at the new system, let's take a look at the previous system I used from July 2005 until December 2008. It's detailed in the previous Hardware Confusion article, but the specifications are reproduced below:
CPU: AMD Athlon 64 X2 4400+ Dual-core
CPU Cooling: Thermalright XP-90
Motherboard: DFI Lanparty NForce4 SLI-DR
RAM: 2 x 1GB OCZ PC-3200 Platinum EL
Graphics: Sparkle 7800GTX 256MB PCI-E
- Updated to a Palit 8800GTS 640MB PCI-E (May 2007)
Sound: Creative Audigy 2 ZS
Monitor: Hyundai 19" L90D+ LCD
Primary Hard Drive: 2 x 74GB Western Digital Raptor 10,000rpm SATA RAID 0
Secondary Hard Drive: 74GB Western Digital Raptor
Optical Drive: Pioneer DVR-109 DVD R/RW
Keyboard & Mouse: Microsoft Optical Desktop Wireless (CE)
Power Supply: Silverstone Zeus 650W
Case: Cooler Master Stacker 820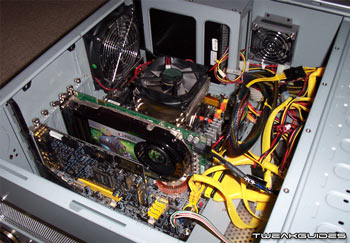 I view this system with great fondness because it's genuinely been rock-solid in terms of stability without ever needing any modification. I've used it virtually every single day for over three and a half years, through extremely hot weather, through hours of continuous gaming with the most strenuous games, through often grueling testing when writing my game guides, and not once has it exhibited any signs of instability or odd behavior.
Aside from its flawless stability, it also performed superbly throughout its life. For example, as part of my Vista Annoyances Resolved article I put up this YouTube video showing precisely how responsive and smooth this system still is under heavy load in Windows Vista. I've also put up videos such as this one showing Crysis running at 'Cheap' Very High settings quite smoothly, even with the FPS-crushing overhead of the Fraps video recording utility. There are plenty more videos showing its performance in various games at maximum or close to maximum settings here. In short, even in its last days, the system was not as slow as its age would imply.
Part of the reason I was able to get good performance for so long was because I upgraded the graphics card in May 2007, and also because I was running a 19" 1280x1024 LCD monitor. However a significant reason in my opinion was that I chose parts for the system which were relatively well-balanced and future-proof. When I purchased a dual core AMD X2 CPU for example, they had just been released and were still considered a wasteful novelty. The Western Digital Raptor hard drives were similarly deemed expensive and excessive at the time, and 2GB of RAM was not yet thought necessary. Yet it was precisely this combination of future-looking components that meant my system could face the upcoming challenges without faltering, and last so long with only one upgrade along the way, making it good value for money despite the higher initial cost. This system is still powering on by the way; it's been passed on to my parents intact, providing them with everything they need for a fast responsive Vista-based home PC, hopefully for several more years.
New System Specifications
As the saying goes "to everything there is a season, a time for every purpose under the sun." It was time for me to let go of my old system and take the step towards new technology and new levels of performance. The new system was first booted up on 18 January 2009, and the specifications are as follows (Last updated December 2014):
CPU: Intel Core i7 920
CPU Cooling: Stock Intel HS&F
Motherboard: ASUS P6T-Deluxe X58
RAM: 6GB (3 x 2GB) G.Skill 1333MHz DDR3
Graphics: EVGA GeForce GTX 970 SC 4GB
Sound: Onboard ADI AD2000B HD Audio Chipset
Monitor: Samsung 24" 2443BW LCD
Primary Drive: Intel 520 240GB SSD
Optical Drive: Pioneer BDR-205 Blu-Ray Writer SATA
Keyboard & Mouse: Microsoft Wireless Laser Desktop 7000
Power Supply: Seasonic 700W M12
Case: Cooler Master Stacker 832 SE
OS: Windows 8 Pro 64-bit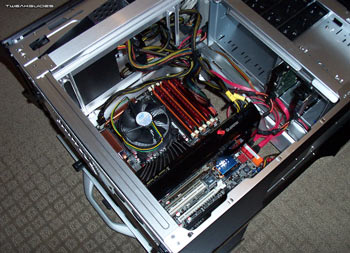 The system is completely optimized using the TweakGuides Tweaking Companion. Nothing is overclocked or otherwise physically modified.
Several components, including the graphics card, primary drive and optical drive, have been updated since this machine was built in 2009. These upgrades and the rationale behind them are described below:
Update: In September 2010, after almost two years of flawless service, I updated this system with two upgrades. Both were not necessary, as the system was still performing extremely well in the latest games and doing everything I wanted with perfect stability. The specific upgrades and the rationale behind them are as follows:
Pioneer BDR-205 Blu-Ray Writer - With the rising popularity of Blu-ray movies, and substantial price drops for all things Blu-ray (movies, standalone players and drives), I decided it was the right time to invest in a new Blu-ray writer for my PC. According to various professional and user reviews, the Pioneer BDR-205 is one of the fastest and most capable blu-ray burners while also being one of the cheapest. With this drive installed, my PC now reads and burns any disc format. As an added bonus the drive is even quieter than my previous DVD burner, and the black facing exactly matches my case. This drive update was certainly not a necessity, but it's a nice little luxury.
Nvidia GeForce GTX 480 - My GeForce GTX 285 has been absolutely fantastic, smoothly running the latest games with plenty of eye candy and not a hint of a problem. However Nvidia recently kindly provided me with a reference GeForce GTX 480, and I have to admit it comes at a time when high-end features like the PhysX in Mafia 2, or the HBAO in Battlefield: Bad Company 2 were pushing my GTX 285 to its limit. It also allows me to take advantage of DirectX 11 in supported games. Again, it wasn't an absolutely necessary upgrade, but the GTX 480 now means I can continue to enjoy the maximum possible visuals in the latest games at high framerates for some time to come. In all other regards, the advice I provided in early 2009 (see Page 6) remains: I do not recommend multi-GPU (SLI, CrossFire) based solutions due to the inherent problems these continue to face, and I still recommend and prefer to use Nvidia GPUs precisely because their driver support and close work with developers ensures problem-free gaming out of the box, along with support for additional features like PhysX.
With the addition of these two upgrades, my system is now completely refreshed and future-proof for high-end gaming purposes. I may update to an SSD at some point before purchasing an entirely new system in a year or two, though to be honest the Velociraptor hard drive is still performing superbly, giving me stutter-free gaming as witnessed by my recent YouTube Videos. SSDs are still quite expensive for the storage they offer, and still vary in terms of quality and performance, so I'll wait for a while longer. Otherwise this system is purring along without a hitch, so almost two years on I'm extremely happy with the choices I've made, and don't feel the need to alter any of the advice in this article.
Update 2: In October 2011, Nvidia has provided me with an upgrade to a Nvidia GeForce GTX 580 1.5GB, in preparation for Battlefield 3 and Skyrim. While the GTX 480 has proven to be an absolute winner, gobbling up everything thrown at it without any issues whatsoever, the recent BF3 Beta highlighted that a bit more performance wouldn't go astray on my system, especially with Elder Scrolls V: Skyrim also out shortly. These two demanding games will require the best single GPU currently available, and that's the GTX 580 (I don't use or recommend multi-GPU setups). Now I'll preface what I'm about to say with the fact that I have absolutely no inside information regarding the next generation of Nvidia cards, code-named Kepler. However speculation I've read indicates that the high-end Kepler GPU won't be available until around mid-2012, so the GTX 580 should keep this 3 year old system purring smoothly until then.
Otherwise I'm still absolutely loving this system, and it's performing flawlessly. I see no need to upgrade or change anything until either a component dies out, or a game comes along which actually demands more of it than it can deliver. I'm toying with the notion of upgrading to an SSD next year, but I recently purchased a Vertex 2 SSD for my parents' PC and it bricked itself within 2 months and was refunded under warranty. Therefore if I do buy an SSD, I'll definitely opt for something more reliable like an Intel. There's no hurry on my part; I'll let the quality SSDs keep falling in price as long as my Velociraptor remains fast and stutter-free.
Update 3: In December 2012 I finally replaced my hard drives with a single 240GB Intel 520 Series SSD. Prices for good quality SSDs have come down to reasonable levels, and I specifically chose the Intel 520 for its combination of performance, reliability and 5 year warranty. Of course that's still no guarantee that there won't be any problems, as SSDs still seem much more prone to dying than HDDs. But I figure that spending a little bit extra to get a decent main drive that has the least chance of failing makes sense if you're going to switch to an SSD.
Upon installing the new SSD, I did a clean install of Windows 8 Pro 64-bit, along with Start8 and 8GadgetPack, and I now have a version of Windows 8 that looks and feels much like my Windows 7 install, but is better under the hood. The SSD truly makes everything incredibly responsive; Windows startup time is only a few seconds, and multitasking has been taken to a whole new level. Basically the SSD has breathed new life into this older system. In all other respects, the system is still, surprisingly, powering along without a single problem. It can play any game smoothly (40+ FPS) at maximum settings, run any program without an issue. It's also very clean and quiet. I don't see any pressing need for a new machine until a major component dies.
Update 4: In December 2014, as likely the last upgrade this ancient system will receive before dying, I replaced the GTX 580 with an EVGA GTX 970 SC 4GB. This card is one of Nvidia's best releases in years: relatively cheap, powerful and efficient; only 15% slower than Nvidia's top GTX 980, but at 40% lower cost. My only real concern was that my 6 year-old i7 920/X58 platform would significantly bottleneck the card, but that doesn't seem to be the case. In recent games with known issues, such as Far Cry 4 and Watch Dogs, my system runs things smoothly at maximum settings.
This work is licensed under a Creative Commons Attribution 4.0 International License.