This is an archive of the original TweakGuides website, with post-archival notes added in purple text. See here for more details.
Hardware Confusion
[Page 9] Concluding Thoughts
The new system has now been up and running for a little over a week, and I'm pleased to say there have been absolutely no issues or problems whatsoever. Not a single crash, BSOD, strange behavior or faulty component in sight. Of course to achieve these results I really had to do my research and at times take a calculated leap of faith. The finished result can be seen below - looks like your average system, but performs like an absolute dream: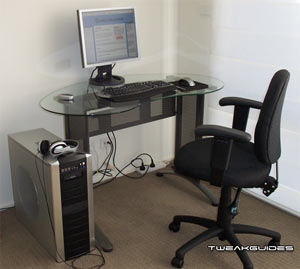 Hopefully this article has shown you the types of things to look out for when buying PC components through the practical examples I've given. Many readers have emailed me in the past asking if I could put together a 'PC Buyers Guide' of sorts, which provides details of the best components to buy, and even where to buy them from. I don't have the time, patience or ability to do anything of the sort, even if it were possible (which it isn't). There is just no way to provide detailed information of that nature which would suit all my readers, especially since many of you are based in different countries where the price and availability of products is completely different. Hence the reason why this article deals in such general terms and I try to avoid mentioning prices as much as possible. I'm based in Australia, and our currency is constantly changing in relation to the US dollar. The prices of the parts I bought can't be compared directly with those overseas (even with exchange rate adjustments) because of transport costs, low volumes, margins etc. all being variable.
For those who really want to know, I purchased all the equipment mentioned in this article online from PlusCorp. The only exceptions are the Hyundai L90D+ monitor which I bought from ComputerMarket, and the MS Wireless Keyboard & Mouse from a local chain retailer Harvey Norman. The simple reason the last two components were purchased separately was because I bought them prior to deciding to upgrade my entire machine, otherwise for convenience I would have bought them all at PlusCorp. I did not receive any free hardware or software, nor am I sponsored by PlusCorp. I did receive a small discount simply because I am a member of Overclockers Australia, Australia's top PC forums. The total price for all components came to $4,700 AUD (~$3,500 USD).
I do have to mention however that PlusCorp were very helpful and kept in constant touch about my order, particularly as I changed my mind on several components after putting in my order, especially my 7800GTX which I changed to from a 6800GT at the last minute. They were very flexible despite my changes, and their prices are very reasonable, so I would recommend them to others.
Regardless of which retailer you choose, I strongly suggest that you consider purchasing most of your components from an online retailer. There are two important reasons for this - price and age. Online retailers can offer a lower price because they don't have the high overheads retail stores do, and they also have to be more competitive because their main customers are relatively tech-savvy. For example, any good online retailer will price match. Furthermore, most online retailers don't hold onto stocks of most of items, and only order them from the distributors when you put in your order. This helps ensure that if there are several revisions of a particular PC component for example, you are likely to get the latest one instead of an older item which has been sitting out back for several months. And despite concerns about damage during transit, I've received plenty of computer equipment over the years from over 10 different online stores without ever finding one component damaged - they're usually packed extremely well.
Finally, I just can't stress the importance of doing research and asking questions from knowledgeable users. In putting my system together, I had a great deal of help from the people on the forums at Overclockers Australia. I wasn't afraid to appear like a total noob - especially since I was switching from familiar Intel products to AMD for the first time. I didn't pester others to help me, but they helped me anyway. Particular thanks to eva2000 for his help, and you can check out eva's advice in his AMD64 Overclocking Guide, and consult with him on i4memory.com. No matter how smart we think we are, it never hurts to defer to those who know more about particular things than we do, and I definitely didn't go into this upgrade thinking I knew more than anyone else about PC components.
If you found this article useful, or a pleasant way to pass time, I'm glad. You are welcome to Contact Me with your thoughts and feedback on the article. However please, please don't email me asking for purchasing advice, or detailed tech support. I don't provide tech support for time reasons, and for those very reasons I can't get into long back-and-forthers either. However I do appreciate all constructive feedback, whether negative or positive.
Until next time, take care!
This work is licensed under a Creative Commons Attribution 4.0 International License.