Hardware Confusion
[Page 2] The Old & the New
Pre-Built vs. Self-Built Systems
Before going any further, the first point I need to stress is that pre-built systems are almost always not optimal. Don't get me wrong, if you've bought a Dell system for example that doesn't mean you've messed up. For starters it all depends on what you use your machine for: a gamer really needs to squeeze the most out of their machine; those who just use their machine for basic Internet browsing don't need to focus on high performance. However pre-built systems have two major flaws which apply to everyone: they usually have hardware restrictions such as a locked BIOS (which negates the ability to overclock), or limited upgradeability; and more importantly they often have one or more bottlenecks due to these companies deciding to use cheaper/slower component(s) in certain areas to save on costs.
Don't get me wrong, there are some great gaming machines out there by companies like Dell and Alienware. So we can't just rule these machines out as being rubbish. And pre-built systems have come a long way in the last few years, with the manufacturers realizing that as their customers become more tech-savvy, they have to lift their game in providing decent machines.
But my point is that basically you can't go wrong if you purchase all your components separately and then build them yourself - or pay someone to put it together for you - into a unique and totally balanced system. For starters you usually get a better deal in terms of price if you pick and choose the optimal components at the best prices. You also don't have to pay a brand premium if you shop wisely. Finally, you gain an understanding of your system and what makes it tick if you take the time to research, buy and put together your own system. This really helps when troubleshooting any problems/incompatibilities further down the track. You're not reliant on the computer manufacturer's woeful tech support to help you out.
Of course some people just don't have the time, patience or confidence to build their own systems, and that's totally understandable. The whole point of this article however is to show you that at the very least you should do a bit of research into how the various components of your system work together, and hence even if you go shopping for a pre-built PC you will at least know what to look out for when examining system specifications.
In my case the system I have built simply is not available from any major manufacturer as a pre-built system. Nor would I have confidence in them putting it together to the standards I require (e.g. tidying up the internal cabling, using the correct BIOS version, etc). So my path has been, and always will be a self-built system. Let's take a look at it below.
The Old and the New
Before getting on to the new system, the first thing you may be wondering about is what system did I have before upgrading to the new one.
Old System Specifications
CPU: Intel Pentium4 2.66GHz
Motherboard: ASUS P4G8X Deluxe Granite Bay
RAM: 2 x 512MB Corsair TwinXMS PC-3200LL (2-2-2-5)
Graphics: GeCube Radeon 9800 Pro 128MB AGP
Sound: Creative Audigy
Hard Drive: 80GB Seagate Barracuda V SATA
CDRW Drive: AOpen CRW4048 CD/RW
DVD Drive: Pioneer 114S 10xDVD
Monitor: 19" LG StudioWorks 995E CRT
Input: Microsoft Keyboard + Wireless Optical Mouse
Sound: Altec-Lansing ACS45.1 Speakers
Power Supply: Antec 480W TruePower PSU
Case: AOpen H600A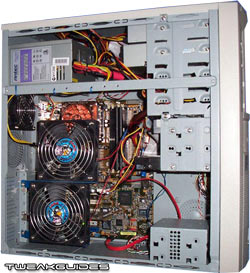 This PC has been my main system since March 2003 and has served me with rock solid stability and excellent performance over that entire period. In fact to this day I can still play games like Doom 3, Half Life 2, America's Army 2.4 and even Battlefield 2 at 1280x1024x32 or higher with most settings on medium to maximum and get playably smooth framerates. See the Benchmarks section for specific details. This system has never been overclocked, and I'll be retaining it as a test system so its tour of duty is not over yet.
The main things to notice about this system are that firstly I made sure to future-proof it relatively well (hence its 2.5+ year lifespan); and secondly that the components are evenly matched, and rarely have I had any performance issues which have been a result of a significant bottleneck. If the system has any weaknesses, it is the hard drive which contributes to stuttering during recent games such as BF2 - although this is extremely common for most people, since hard drive technology is still lagging behind and can't keep up with the demands the system places on it for information.
All-in-all, the 'old' system has served me very well, and I was happy to keep it going a little longer. I didn't really have to upgrade, however in order to keep writing the best tweak guides I can, I decided to upgrade to the latest technologies so that I have hands-on experience with the new stuff.
New System Specifications
The following are the components I purchased to build my new system, which was finally put together and booted up on 3 July 2005.
CPU: AMD Athlon 64 X2 4400+ Dual-core CPU
CPU Cooling: Thermalright XP-90 + High Speed Fan
Motherboard: DFI Lanparty NForce4 SLI-DR
RAM: 2 x 1GB OCZ PC-3200 Platinum EL (2-3-2-5)
Graphics: Sparkle 7800GTX 256MB PCI-E
Updated to a Palit 8800GTS 640MB PCI-E - see further below for details
Sound: Creative Audigy 2 ZS
Hard Drive: 2 x 74GB Western Digital Raptor 10,000rpm SATA RAID 0
Updated with another 74GB Raptor to use for Vista on my XP/Vista dual boot
CD/DVD Drive: Pioneer DVR-109 DVD R/RW
Monitor: Hyundai L90D+ 19" 8ms LCD
Input: Microsoft Optical Desktop Wireless (CE) Keyboard + Mouse
Sound: Sennheiser HD212Pro
Power Supply: Silverstone 650W PSU
Case: Coolermaster Stacker Silver
Nothing is overclocked or otherwise physically modified.
Update: In deciding to upgrade my rig on the cheap in May 2007, after research I found that I only needed to upgrade the graphics card to keep the rig performing extremely well in recent DX9 and DirectX10 games. As such, I chose a Palit 8800GTS 640MB PCI-E graphics card in place of my 2 year old 7800GTX. The rationale behind this decision is that various benchmarks show that even at 1280x1024, the 640MB GTS can show marked FPS improvements over the 320MB GTS in some games, when any Antialiasing/Anisotropic Filtering is used. And of course in upcoming games with larger textures, more texture memory is always a plus for smoother gaming.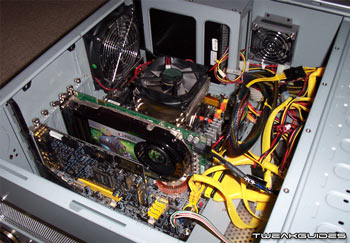 Update 2: This system is no longer my current system. My latest system as of January 2009 is here.
This system is once again extremely balanced and has minimal bottlenecks for performance. On the following pages I delve into the thinking behind the purchase of these components, some benchmarks and supporting information about their performance, and qualitative information about how this system performs in the real world.
This work is licensed under a Creative Commons Attribution 4.0 International License.