This is an archive of the original TweakGuides website, with post-archival notes added in purple text. See here for more details.
ATI Catalyst Tweak Guide
[Page 3] Catalyst Installation
The Catalysts require some attention to detail when installing and setting up, as there are several things you can do along the way to make your entire system work much better with the Catalysts. Follow the advice in this section to ensure smooth, trouble-free performance from your ATI graphics card.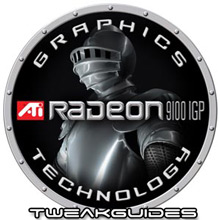 Download the Latest Drivers
The official ATI Catalyst driver package is suitable for all desktop ATI graphics cards, regardless of their brand. You may have used specific drivers found on your graphics card manufacturer's website before, or those on the CD which comes with your graphics card, however these are always based on the generic ATI Catalysts anyway and almost always well out of date. It is recommended that instead you use the latest ATI Catalysts on all graphics cards.
To download the latest Catalyst drivers, go to the ATI Driver Site, select your Operating System, select the type of ATI graphics card on your system and then simply select the model of your graphics card; if you can't see your exact graphics card model, go back and check your choices - e.g. desktop users typically need to select the 'Radeon' item, while laptop users need to select the 'Mobility Radeon' item. Once done, click the small green Go button at the bottom right of the box.
On the next page you may have several options available to you as to what you can download. Depending on your particular hardware and how you wish to set up your drivers, consult the following scenarios for advice:
If you plan on using the latest Catalyst drivers along with their Catalyst Control Center (CCC), which is the normal and recommended method, download and install the 'Full Catalyst Suite'. Note further that even if you download this package, you can still opt not to install the CCC during installation - select the 'Custom' installation option and untick the 'Catalyst Control Center' item, then continue the installation. Importantly, the Catalyst Control Center requires the .NET Framework to function - see the .NET Framework section further below.
If you plan on using the latest Catalyst drivers, but you don't wish to use the Catalyst Control Center, you can skip .NET and the full Catalyst Software Suite package and instead just download the smaller 'Display Driver' package. However you will then need to install a utility like ATI Tray Tools to allow you to access and alter the Catalyst settings. See the Advanced Tweaking section for more details.
If you have an X1000 or older series card, as of Catalyst 9.4 these are no longer support - only HD2000, HD3000 and HD4000 series cards are supported by Catalyst 9.4 onwards, so use an older driver.
If you have a 9250 or older Radeon, you should use the 6.11 Catalysts as these cards are no longer supported in the latest Catalysts.
If you have an 'All-in-Wonder' ATI card, or a card which has VIVO (Video In/Video Out) capabilities, you will need the full Catalyst Software Suite which includes the WDM Integrated Driver.
If you have an X1000 series card or newer and want to use Avivo Video conversion, also download and install the Avivio Video Converter Engine by clicking the link under 'Optional Downloads' - however you must install this after you've installed the latest Catalysts.
For earlier version of the Catalysts see the Guru3D Download Page.
Microsoft .NET Framework
If you're going to install and use the latest ATI Catalyst Control Center, which is part of the normal ATI Catalyst Software Suite, you must first install the Microsoft .NET Framework (Version 2.0) on Windows XP - Vista already comes with .NET 3.0. Download the .NET package and install it, and then make sure to visit the Windows Update site and check for any additional updates for .NET regularly. The .NET package is absolutely necessary if you want the ATI Control Center to work.
If you're wondering what the .NET Framework is, and why it needs to be installed for the ATI Control Center to work, basically ATI has decided to use the .NET Framework as the platform for developing the Catalyst Control Center functionality. .NET is not required by the graphics drivers themselves, it is required for the Control Center. .NET allows developers to easily program in more functionality in the driver's user interface, especially for Windows Vista. Of course there are downsides to this for users, such as an incredibly bloated startup process and background memory usage. If you have installed the .NET Framework primarily to use the new ATI Control Center, you can disable two .NET aspects to reduce your startup time, reduce resource usage and still have no impact on the functionality of your system or the ATI Control Center:
1. Go to Start>Run and type "Services.msc" (without quotes). In the Services dialog box, if you find the '.NET Runtime Optimization Service' then set it to Disabled. If you find the service 'Windows User Mode Driver Framework', set it to Disabled, however note that some media players like Windows Media Player require this service to remain enabled if you want to synchronize with a hardware media player.
2. Go to Control Panel>User Accounts and select the 'aspnet_wp ASP.NET Machine Account' (or similar), then choose to Delete it. This account is only necessary if you do software development work using the .NET Framework. Alternatively you can delete this account by going to Control Panel>Administrative Tools>Computer Management>Local Users & Groups>Users and disabling the ASPNET account. Should you ever need to recreate this account, go to your .NET folder (usually \WINDOWS\Microsoft.NET\Framework\[versionnumber]\) and run the aspnet_regiis.exe file.
See the Tidying Up section for more details on how to disable the other startup items and service entries the ATI Catalysts create which can increase the startup time and memory usage.
Old Catalyst Removal
Now we move on to the simplest, and yet most commonly mishandled part of using graphics drivers - the removal of previous Catalyst drivers. To do this successfully, you need to follow some simple steps which will help guarantee that your installation of the drivers is 'clean', and leads to trouble-free performance. I particularly recommend this procedure if you are installing the ATI Catalyst Control Center for the first time. To completely remove your existing Catalysts, and all traces of them from your system manually do the following:
1. Uninstall any existing Catalysts. To do this, go to Control Panel>Add or Remove Programs in XP or Control Panel>Programs and Features in Vista. Select the 'ATI - Software Uninstall Utility' option (or similar) if available, and click the Change/Remove button. Follow the prompts from there to uninstall your existing Catalysts, and reboot as prompted. If you cannot find any ATI entries, you are probably using the default Windows drivers, which means you can skip to the Catalyst Installation section further below.
2. When you reboot, you will find Windows will detect your graphics card as one (or more) new devices. It will then attempt to find appropriate drivers for your card. Cancel out of all such attempts. If you can't then don't worry about it, but it is preferable if you prevent this from occurring.
3. This step is optional, however it is strongly recommended if you are either (a) downgrading your Catalyst drivers to an older version, or (b) experiencing problems and want to ensure you have a complete 'clean' install of the Catalyst drivers/Control Center. Basically the aim is to find all the individual ATI graphics driver files and remove them manually. The instructions differ based on your OS:
Windows XP: Go to your C:\Windows\System32 and C:\Windows\System32\Drivers directories, and find and delete all files beginning with 'ATI...'. You may notice that some of these files keep recreating themselves - don't worry, these are just the default XP ATI drivers which are protected and can't be permanently deleted. Just delete all the ATI driver files and let XP decide which default files the system should keep. Alternatively you can use the Windows Search function (Start>Search), with the search string ATI*.* to make searching and deletion faster. Importantly however, do not delete the files under the \ServicePackFiles or \Lastgood directories, or under any game or application-specific directories. Just stick to files found under the two directories mentioned earlier. Finally, make sure you delete the entire program folder(s) where you installed the Catalysts. The default install location is C:\ATI and/or C:\ATI Technologies but if you chose another location when installing, go there and delete the folder and all its contents. Also delete the \Documents and Settings\[username]\Application Data\ATI and \Documents and Settings\[username]\Local Settings\Application Data\ATI directories if you have previously installed the ATI Catalyst Control Center at any point.
Windows Vista: See the 'Viewing, Updating or Uninstalling Drivers' section of the Windows Drivers chapter of the TweakGuides Tweaking Companion for Windows Vista. It is trickier to manually remove driver traces in Vista, so you must read the instructions carefully to see how it's done.
Finally, make sure you delete the entire program folder(s) where you installed the Catalyst drivers. The default install location is Program Files\ATI Technologies but if you chose another location when installing, go there and delete the folder and all its contents. Note, while I recommend learning to use the manual method, if you are worried about accidentally deleting the wrong file, use the free Driver Sweeper utility.
4. This step is optional, but again it is recommended if you want to ensure a "clean install". It involves removing any ATI registry entries left over. To do this, I recommend using either RegSupreme, or its earlier (and completely free) cousin, RegCleaner 4.3. To use RegSupreme, start the program and once it has cached your files, start a 'Deep' scan, then wait and choose the 'All' item under the Select menu to highlight all the 'invalid entries' found, and click the Fix button to remove them all, making sure to save a backup under a descriptive name. To use RegCleaner, open the program and on the front page put a tick next to all the 'ATI'-related entries, and then click the 'Remove Selected' button. If you want to use the Windows XP Registry Editor instead, go to Start>Run and type "RegEdit" (without quotes). Then go to the HKEY_LOCAL_MACHINE key, select the 'Software' subkey, and scroll down to the 'ATI', 'ATI Technologies' and 'ATI Technologies Inc.' entries. Right-Click on each of these keys and select Delete to remove them. Note that this method is not as thorough as using RegSupreme or RegCleaner, which find other hidden ATI entries.
That should remove all the bits and pieces of old Catalyst drivers and Control Centers/Panels which have been installed on your system previously. Of course the quickest method is to just run the ATI Software Uninstall Utility, but as I said, if you're installing the ATI Catalyst Control Centre for the first time, if you have a history of graphical problems, if you've installed multiple versions of the Catalysts without a cleanout, or you are reverting to an older version of the Catalysts from a newer one, I strongly suggest you follow all four steps above at least once.
Catalyst Installation
Once you've uninstalled the old Catalysts, there is nothing tricky or difficult about installing the new Catalysts. The whole process is simple, but here it is in case you want to be 100% certain it's being done right:
1. If you downloaded the single large Catalyst driver package (as recommended), just double-click on it to launch the driver installation wizard. If you have only the Display Drivers file, launch it instead. In both cases the installation procedure is automatic and you are given clear prompts as to what to do.
2. When installing the full Catalyst driver package (which includes the Catalyst Control Center), if you don't want to install the Catalyst Control Center then choose the 'Custom' installation method, and when prompted untick the 'Catalyst Control Center' item, and it won't be installed. Remember that not installing the Catalyst Control Center means that you'll have to use a program like ATI Tray Tools if you want to access the driver settings. Unless you are a very advanced/experienced user, I strongly recommend installing the Catalyst Control Center to begin with.
Note: As of the 7.5 Catalysts, you may have the option to install additional components, such as 'Free Games'. None of these are necessary to correctly use the Catalysts, and indeed I recommend against installing them. Free Games for example simply installs the Steam Client, through which you can access some free promotional games such as Half Life 2: Deathmatch. You can download and install these separately later if you wish, once you find out more about them.
3. When the driver package prompts you for a directory to install the Catalysts, it is important to note that this directory is the place where the package files will be temporarily unzipped for installation purposes. It is not where the final drivers will be installed. You can leave the default location shown, but I personally recommend you specify an empty folder of your own choosing. In any case make a note of the directory name (See the Tidying Up section).
4. Follow the remaining prompts and reboot as often as you are prompted, since this is also an important step in making sure Windows has a chance to replace system files which are currently in use.
The next section continues with details of how to clean up your system and do some initial optimization after the Catalyst installation.
This work is licensed under a Creative Commons Attribution 4.0 International License.