This is an archive of the original TweakGuides website, with post-archival notes added in purple text. See here for more details.
Assassin's Creed Tweak Guide
[Page 4] Patches & Mods
Official Patch
Ubisoft has released the 1.02 Patch for Assassin's Creed. This patch contains a range of fixes, adds official support for Windows 64-bit, and fixes any DirectX 10.1 issues on ATI HD3000 series graphics cards by removing DX10.1 support, which in turn may reduce performance in DX10 mode on those cards.
Note that if you launch the game via the Launcher, it will automatically check for updates and patch the game to keep it updated. I will have more details of future patches here, so check back regularly.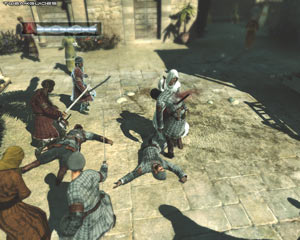 Copy Protection
Assassin's Creed is protected by the SafeDisc copy protection system, which means you need to keep the game DVD in the drive during play. You might also have to disable any virtual drives as this can conflict with SafeDisc. Furthermore some DVD drives may require a firmware update to be able to prevent read errors - see your drive manufacturer's site for details of how to update the firmware. Hopefully Ubisoft will remove the disk check from the game in a future patch, but given it's a single player game with no multiplayer component, it's unlikely this will occur.
Mods
Assassin's Creed is a game originally designed for console and ported over to PC. As such it's unlikely there will be many, if any, mods for the game. There are no modding tools available, hence the customization options are limited. However as with other console-derived games, there is the possibility that people can design some basic mods for the game, particularly to address minor annoyances such as the black bars or the lengthy exit process (one such fix is already listed under the Resolution setting in the In-Game Settings section). If I hear of any major mods I will list them here.
The next section starts our look at Assassin's Creed's In-Game settings in detail.
This work is licensed under a Creative Commons Attribution 4.0 International License.